Vera - 7.7LB Male Masturbator Torso Dolls with 3D Realistic Virgin Pussy

About 3-5 Days Delivery

Free Shipping, U.S. Only

We can ship to Canada and Mexico,
but it takes longer.
Perfect Torso Sex Doll: This male doll is reduced in proportion to the figure of the sexy female model, with an S-shaped figure, full breast milk, and beautiful buttocks. The whole lifelike torso is here, you will want to enter in a seductive missionary style and enjoy the wild scenery she shows while rubbing.  The size of the doll: 12.6 * 8.27 * 5.12inch Weight: 7.7lb
3 In 1 Male Masturbator: This male masturbator has a super elastic vagina, tight anus, and a pair of big breasts. You will choose different sex games according to your preferences. The two channels of the sex doll have real 3D structures and ribbed tunnels. When your brother enters, the protrusions and particles on the sexual channel will simulate the mouth sucking it. Or squeeze your brother between the soft big breasts to bring teasing and excitement, allowing you to enjoy the fun of dolls.
TPR Sex Doll: This Male Masturbator is made of TPR material, giving it the same appearance as real human skin, bringing the realistic experience. You can see the texture of the pocket pussy just like a real person, the lifelike wrinkles outside the tight anus, the goosebumps on the body, and even the color changes of various parts. You can't help but grab her big breasts, knead her pink nipples, caress her delicate labia, the ultra-real skin touch makes you evoke sexual fantasies about her.
Safe Sex Doll: While bringing a real appearance and feel, TPR material makes sex dolls tasteless and non-toxic, ensuring your safety. When you need to clean, just place the Pocket Pussy in water, clean it with mild soap, dry it with a paper towel and coat the surface with cornstarch to keep the sex doll skin smooth and avoid becoming sticky.
Discreet Packing: We value the privacy of our customers. The outer packaging of each sex toy will not have any sensitive fonts and logos so no one knows what kind of gift it will be. If you have any questions contact us, we will provide you with perfect service within 24 hours.
All BloomDoll items are dispatched in our plain, sturdy custom-made boxes.
Our tough boxes are double-wrapped with heavy-duty packing tape, though the size will of course vary depending on your order.
Besides, you can also enjoy free shipping.
Shipping Deatils
Shipping Methods:
UPS/USPS etc.

Shipping Cost:
Free shipping on US domestic orders.

Shipping Time Limit:
About 3-5 Days Delivery

Shipping From:
U.S. East/West Warehouse

U.S. East Warehouse Address:
130 Eugene St Gibsonville, NC 27249

U.S. West Warehouse Address:
13620 Benson Ave. Suite B, Chino, CA 91710

Past order delivery display(Screenshot from AfterShip's tracking of our site's shipments):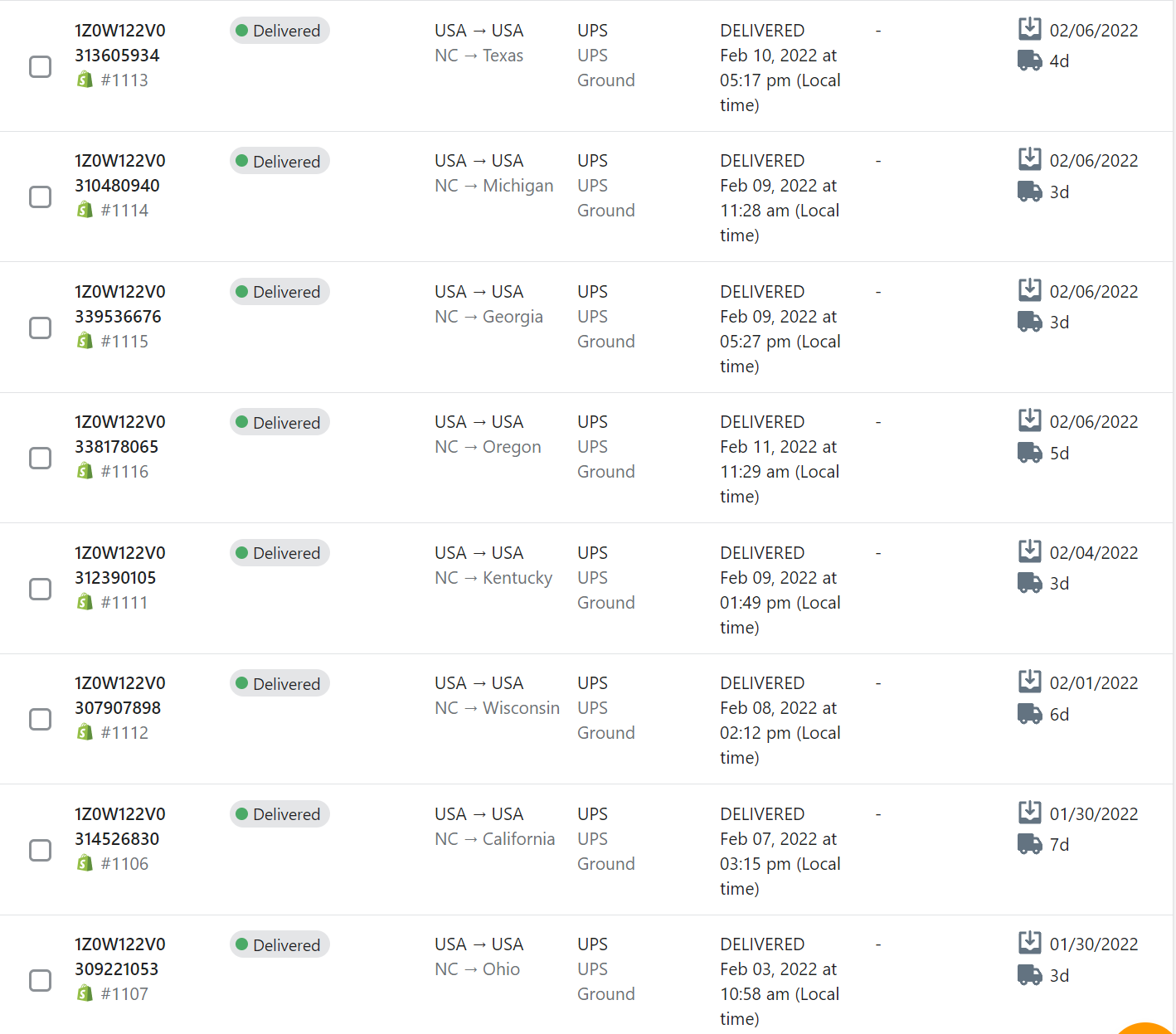 Track Your Order:
You can also check your order basic on your [order number and your email] or your tracking number on the "Track Your Order" page.
Affected by Covid-19, there will be some delay in the delivery.
Free shipping for all orders with discreet packaging. The shipment will be arranged within 24 hours after the order has been placed. As soon as the Logistics company will provide us with the tracking number, BloomDoll will be provided to you via email (usually takes 48-72 hours.)
Please NOTE that our currently cooperated logistic company in the US is UPS/USPS etc. which means your order will be packaged with a normal paper box. It usually takes 3-5 days for you to receive the order with the US(remote area excluded)
If you have any queries/complaints please do not hesitate to send us an email to Support@BloomDoll.com. We'll try our best to service as soon as possible.
---
To see the details, pls click: Shipping & Returns