Male Masturbator Pocket Pussy

About 3-5 Days Delivery

Free Shipping, U.S. Only

We can ship to Canada and Mexico,
but it takes longer.
Male Masturbator Pocket Pussy with 3D Realistic Textured Vagina and Tight Anus, Brown Skin Blow Job Stroker Portable Male Masturbator Sex Toy for Men Pleasure
【Dual Channel Design】This 2 in 1 Male Masturbator has two compact entrances that you can't resist. The soft vagina and the super tight anus will make you feel unparalleled stimulation. With water-based lubricants, experience your own sex!

【Realistic Skin】The Realistic Sex Toy for Men Masturbation with realistic skin which absolutely beyond your imagination. It looks like dark skin naturally tanned by the sun. You can even see small raised particles on it! She will encourage you to feel great and intense orgasms

【3D Texture Design】This 2 in 1 Pocket Pussy Stroker is designed with various textures, bumps and particles in the vagina and anus. Even if it is a person's play, you can experience the most real sexual feelings and stimulate your penis!

【Perfect Size】This erotic male adult toy has an almost perfect size, 19*11*10 cm. You can easily control her to complete different sexual actions, and you can hide her in your drawers, backpacks, even the camera bag quietly.

【Protect Your Privacy】All silicone masturbators are packed in neutral box to protect your privacy, nobody will know what's inside the box. Please feel free to contact us if you're not satisfied with our product.
Do you want to enjoy intense anal sex and tight vaginas?
The male masturbator toy doubles your fun. On the one hand, you have a plump size and can ride in the anus. On the other hand, her vagina is very tight.
Thanks to the portable size, it is easy to hold. As soon as you insert your penis into your vagina or anus and slide deeper into your body, every inch of skin on the pen is tightly enclosed and you can feel the pressure increase around the penis.
add some lubricant to it and enjoy satisfying anal sex or experience her unusually tight vagina.
Super soft and realistic skin
Realistic maturbator made of soft and extremely silicone. The two channels have different textures, feels like a real vagina and anus, highly sensual textured and ribbed channels. which will give your cock unbelievable stimulation.
Easy to carry

This male masturbator can accompany you on a flight to traveling and business trip, you can take her to any place you like to enjoy wonderful sex, her small and cute body can bring you endless pleasure!

Easy to Clean

The men's sex doll can wash with warm water, then dried naturally, and stored in a cool and dry place.

Discretly Package

The men sex toy shipped with dedicated sealed box, unmarked packaging, a confidential delivery, and express orders without leaving any sensitive words.
All BloomDoll items are dispatched in our plain, sturdy custom-made boxes.
Our tough boxes are double-wrapped with heavy-duty packing tape, though the size will of course vary depending on your order.
Besides, you can also enjoy free shipping.
Shipping Deatils
Shipping Methods:
UPS/USPS etc.

Shipping Cost:
Free shipping on US domestic orders.

Shipping Time Limit:
About 3-5 Days Delivery

Shipping From:
U.S. East/West Warehouse

U.S. East Warehouse Address:
130 Eugene St Gibsonville, NC 27249

U.S. West Warehouse Address:
13620 Benson Ave. Suite B, Chino, CA 91710

Past order delivery display(Screenshot from AfterShip's tracking of our site's shipments):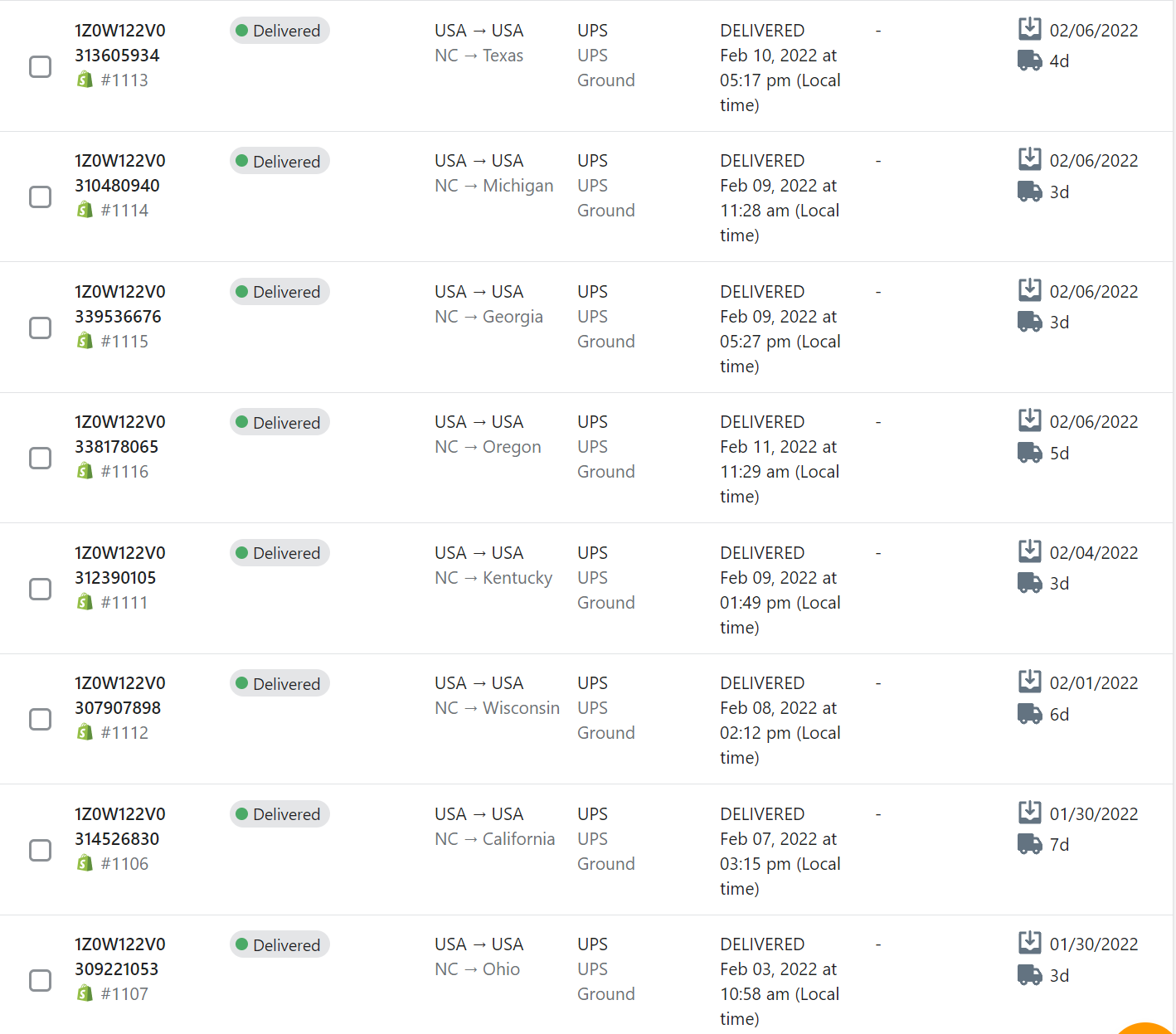 Track Your Order:
You can also check your order basic on your [order number and your email] or your tracking number on the "Track Your Order" page.
Affected by Covid-19, there will be some delay in the delivery.
Free shipping for all orders with discreet packaging. The shipment will be arranged within 24 hours after the order has been placed. As soon as the Logistics company will provide us with the tracking number, BloomDoll will be provided to you via email (usually takes 48-72 hours.)
Please NOTE that our currently cooperated logistic company in the US is UPS/USPS etc. which means your order will be packaged with a normal paper box. It usually takes 3-5 days for you to receive the order with the US(remote area excluded)
If you have any queries/complaints please do not hesitate to send us an email to Support@BloomDoll.com. We'll try our best to service as soon as possible.
---
To see the details, pls click: Shipping & Returns